Since its inception in the '60s, Jackson Hole Mountain Resort has been the proving ground for extreme skiers looking to make a name for themselves. The terrain at Jackson is known across the globe for being some of the most challenging—and rewarding—there is. Tight chutes, like the iconic Corbet's Couloir, big airs, deep snow and steep lines are what make Jackson Hole famous. However, there are dozens of wide-open trails for beginners and picture-perfect cruisers and progressive bump runs for intermediates, and much more.
While a Jackson Hole ski vacation will always be top-of-mind with expert skiers as a bucket list destination because of the advanced and extreme terrain on its slopes and easily accessed sidecountry, Jackson brings a lot more to the plate than just being a place for adrenaline junkies to jump off cliffs. Not only does Jackson Hole exude refreshing cowboy character, on and off the slopes, but its All New-All Blue terrain off of Casper chairlift is a game-changer for intermediates.
At Jackson Hole ski resort, you'll be awed by the breathtakingly rugged Teton mountains, and equally wooed by the authentic and welcoming Wild West atmosphere that pervades both Teton Village and downtown Jackson Hole, which are 15 minutes apart. Everything about Jackson Hole, even down to the shopping and dining is reminiscent of a bygone day and makes for one unforgettable ski vacation.
Ski Jackson Hole Resort
Many ski legends have been born on the slopes of Jackson Hole. Early icons like Doug Coombs and the founders of ski movie production team, Teton Gravity Reseach (TGR) cut their teeth and established a reputation by attacking the gnarly lines of Jackson Hole. Expert lines like Corbett's, Once is Enough, Pucker Face, Central Couloir still are featured every year in ski movies because they're timeless.
Jackson Hole often experiences an inversion, where cold air is trapped by clouds at the base of the mountain, while the top of the mountain is gorgeous and sunny with visibility for miles. Skiing in Jackson Hole is like skiing in the clouds. It's truly breathtaking.
Intermediate skiers have their own slice of heaven at Jackson Hole these days. The resort re-graded several runs off of Casper chairlift and redesignated them as true blue runs, i.e. All New-All Blue. Intermediates can enjoy the views from the top of Jackson Hole's famed Tram, thanks to meandering fun runs all over the mountain, like Amphitheater and Nez-Perce Traverse. And there's an entire section, the Teewinot Face, on the looker's right of the mountain for intermediate skiers—accessed via Apres Vous Quad. Beginner runs are relegated to the bottom half of the mountain, off of the Eagle's Chair and Teewinot Quad.
Downtown Jackson
As you can imagine the tough, genuine cowboy vibe in downtown Jackson predates the ski resorts. This rustic pureness in downtown Jackson is part of the draw for many people, from the Million Dollar Cowboy Bar, a Western museum and watering hole all in one, to the many cowboy attire retailers and antique stores. And you can bet that the little ones will surely love perusing through town− homemade ice cream in hand−pretending they're cowboys or cowgirls. Jackson Hole is truly a magical ski destination for kids age three to 99.
Jackson Hole Heli Skiing Operators
High Mountain Heli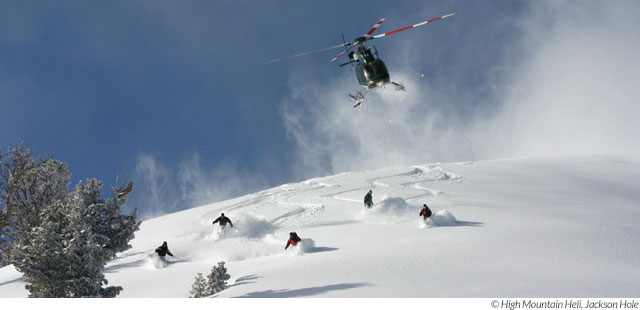 6-run package
305,000 acres of heli skiing
Best for those looking to tack on a heli day to their Jackson Hole ski vacation
Jackson Hole Ski Vacation Packages
If Jackson Hole sounds like the sort of ski vacation you've been yearning to experience, start the booking process today. You can begin by using searching our online Jackson Hole lodging inventory. Use the filters to narrow down the options based on your budget and preferences. You can also book your flights, lift tickets, lessons and equipment rental online. If you'd prefer, leave the heavy-lifting to Ski.com's knowledgeable Mountain Vacation Specialists. They can customize your ideal Jackson Hole ski vacation package, including accommodations, air travel, ground transportation, lift tickets, ski or snowboard rentals, activities to events around town and more.
Have questions? Ready to go?
Our Mountain Vacation Specialists are standing by for your call or chat.
Jackson Hole Photos
---